** Pictures by ScottH
It?s been a terrible off-season. The Socceroos lost in extra-time; the Victory were anything but; and Punter and his pals sank without trace. Never mind: a new AFL season and hope springs eternal.
I drove up to town from Gippsland with my daughter - it took a couple of hours, so I had plenty of time to reminisce - plenty of memories from past Demons? confrontations. Schwartz and Dunkley going head to head, more intent on whacking each other than winning the ball. Dermot Brereton marking over top of Jim Stynes and triggering one of those glorious come-from-behind victories that the Swans became famous for. Magic needlessly tearing his hamstring when the game was won. And the day that Adam Goodes almost single-handedly got us over the line, only for Russell Robertson to kick a late brace and snatch the game. I can still remember the sad sight of Goodes on hands and knees, vomiting from exhaustion, while the Melbourne players celebrated.
My daughter and I carefully did not discuss what happened the last time these teams met.
We got a good seat near the goals. Watching the team warm up, I tried to identify the changes from last season. Captain Kirk has beamed up, and taken Bolton with him. The Irishman was absent . . . probably delayed on the flight from Kerry . . . and the Canadian missed the cut. From a distance I couldn?t recognise the new team members, but through my old eyes they appeared to be Legolas and Frodo. I probably should have bought a Footy Record.
The first quarter wasn?t too bad. The play was scrappy, and Melbourne seemed to win most of the contests, but when the Swans got the ball clear they looked a class above the Demons. Reid was getting involved in the game and didn?t look out of place, and Goodes was being Goodes . . . making it look so easy.
The second quarter was worrying. The Dees were still winning in the clinches, and at times made the Swans look slow and unimaginative. In fact, without Rohan and Jetta, the Swans would have looked very pedestrian indeed. They are both very exciting footballers to watch live: Jetta for the obvious enjoyment he gets from just grabbing the ball and taking off, and Rohan for his sheer acceleration over 15 to 20 metres ? quite breathtaking.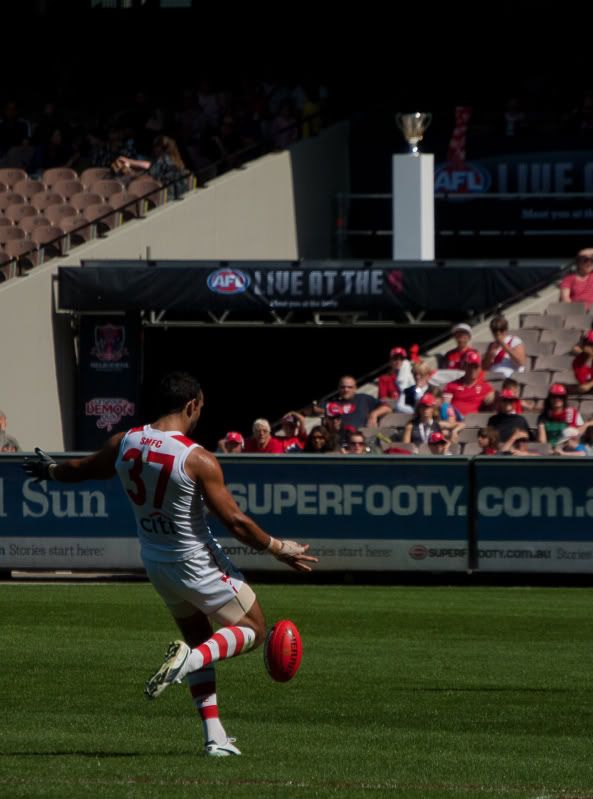 The game swung to and fro in the third quarter. The Swans would get on top, only for the Demons to claw their way back into the match. Thank God for Ted and Reg. I?ve never been a big fan of Teddy Richards . . . always thought that he was a bit of a passenger. But now I?m a convert: his coolness under pressure and ability to read the play are invaluable ? and the spray he gave Everitt was hilarious. Grundy just gets better and better every time I see him ? he doesn?t just nullify his opponent, he also accumulates possessions almost at will.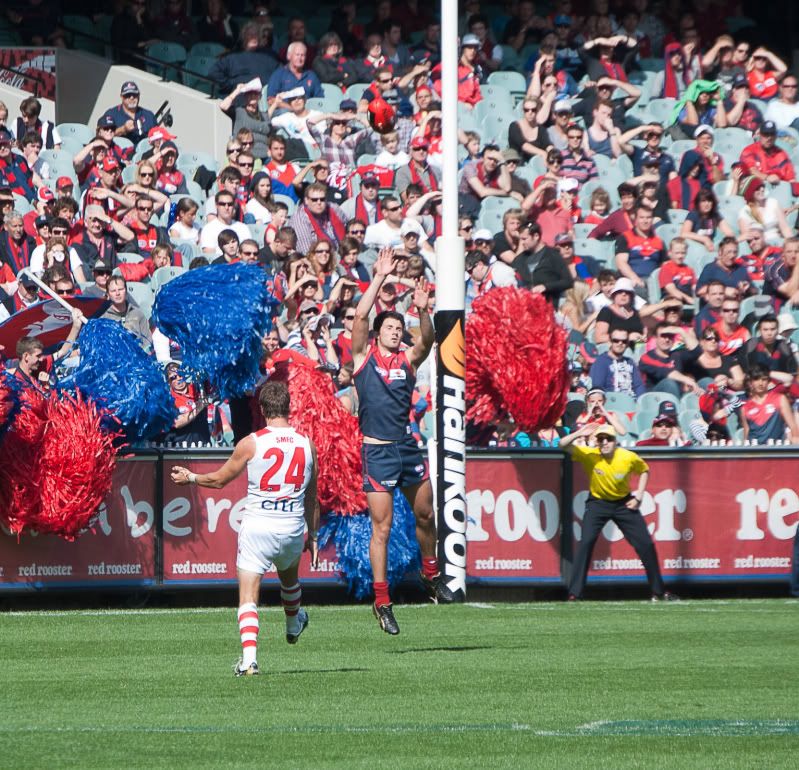 I was definitely feeling very pessimistic going into the final quarter. We?d had a clear opportunity to bury the Demons in the third quarter, but the fact was the Dees were just more determined to win the ball, and more willing to put their bodies on the line in the contests. Dean Bailey was almost manic in his desire to urge his players to victory, and the pattern continued right to the final whistle.
It was interesting to see the quality of play deteriorate as players on both sides ran out of steam. A combination of early season fitness and the impact of the new substitution rule saw several players running on guts alone. A number of the Swans' youngsters were particularly affected, and it was fortunate that the mature bodies of O?Keefe, McVeigh and Jack were able to run the game out and hold the side together.
That?s the first time I?ve attended a drawn game, and it really is a weird atmosphere. The final siren brought no reaction at all ? a hollow vacuum ? as if no-one knew what to do, least of all the players.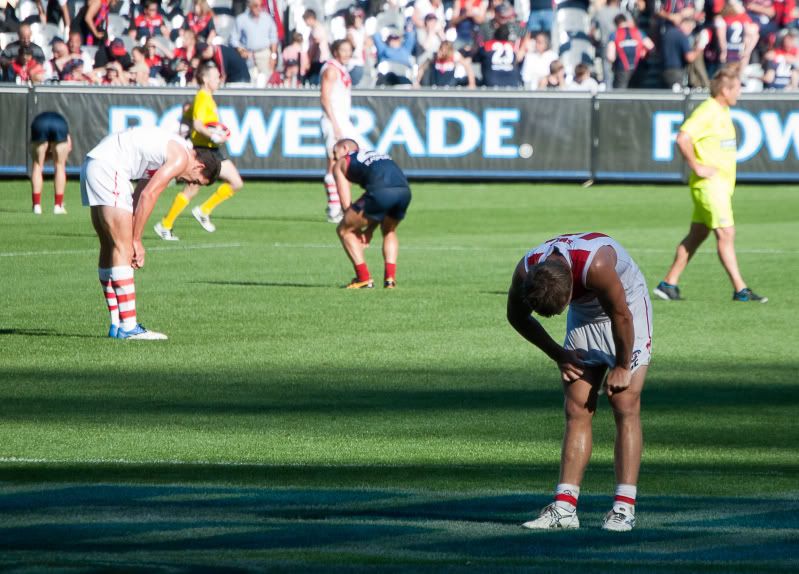 Some biased observations:
Sydney were lucky. Longmire will be pleased that the Swans held on grittily, even though most of them were running on empty, but the cold fact is that Melbourne are not very good, and if we?d been playing a top four side we would have been well beaten. Longmire himself must take some of the blame: playing Seaby as substitute set Mumford up for a beating from the two Demon big men, particularly from Jamar, who is a very classy ruckman. Having run Mumford into the ground, he then brought Seaby on too late to give him a run in the forward line, halving his impact. Bailey, in contrast, got it just right, with Petterd reinvigorating the Demons? forward setup to the extent that, if they?d kicked straight, they would have coasted home.
Our forward group are very one-dimensional. Only Goodes seems to know how to lead up and take a mark, and as the game wore on it was obvious that we would have to rely on pinch-hitters (Bolton, McGlynn) to get us home. White and Reid might be the answer in the future, but that won?t be this year. If we are going to be serious contenders in 2011, we have to get some genuine leading forwards to back up Goodes. Dennis-Lane may be soft, but he knows how to lead, and he?s a very reliable kick for goal. And if Bradshaw doesn?t come up, I don?t think we can afford to use O?Keefe on the ball ? he has to go forward and give us a genuine marking option.
Our youngsters still have a fair way to go to being able to consistently handle the pace and pressure of senior AFL. Hannebury, Rohan, Everitt, Jetta, Smith and Sumner all did some very nice things, and got their share of possessions. But they all exhibited some very poor judgement (read: panic) at times, which led to turnover goals. It certainly underlined to me that, at the moment, we can?t afford to be without experienced players like Kennelly, Malceski, LRT, Bradshaw, Moore at the same time.
Oh well, think positive. In 1996 we lost by 90 points in round 1, and 2006 we lost by 27 points first up. Maybe this is a sign that 2011 will be a better year than either of those.
Sydney 5.3 7.5 10.14 11.18 (84)??
Melbourne 3.2 5.8 8.12 11.18 (84)
GOALS?
Sydney: McGlynn 3, Bolton 3, Goodes 2, Reid, Everitt, White
Melbourne: Green 2, Dunn 2, Jurrah 2, Sylvia, Jetta, Moloney, Jones, Bennell
BEST?
?Sydney: Grundy, Richards, Jack, Bolton, McGlynn
??Melbourne: Sylvia, Garland, Moloney, Trengove, Tapscott
INJURIES?
Sydney: nil
Melbourne: nil
Reports: Davey (Melb) for head high contact with McGlynn (Syd)??
Umpires: McBurney, Armstrong, Jeffery??
Official crowd: 33,951 at the MCG