By Primmie and ORB.
Photos by ScottH
The first quarter was a fairly lacklustre affair. The midfield domination seen in the first couple of home matches was not there - not surprising given that the team has lost its gun inside midfielder to the ones, nor are they likely to get him back! Lack of pressure from the Swans mids was also allowing Ainslie to pass the ball into their forward line with some precision. Poor goal kicking early on was also a problem, and as usual the main culprit was ?Poppa Bear? Henry Playfair. He did manage a great snap from 40 out on a sharp angle but his set shots were as we are accustomed to see ? pure rubbish.
Down five points at the quarter, and things started to get a bit ugly in the second, not helped much by Vidic Richards dropping an easy mark and Ainslie goaling on the turnover. Swans got some momentum back when ?the Dill? Dylan McNeil broke free and advantaged ?LJ? Lewis Johnston for a reply. Ainslie replied immediately after winning the center clearance, and got another one from a 50 metre penalty. Inaccuracy continued to plague the Swans, Poppa Bear and the Dill missing good chances. Finally Cheese Barlow won a clearance and passed to LJ whose long set shot was straight. Vez then took the tip and bombed a long one from 55. Two more goals for Ainslie, one when ?Jonesy? (no surname) Campbell Heath hopelessly misjudged a mark and Ainslie goaled from the crumb, another when ?Turnover Ted? did it again and a third when top up 47 was badly beaten. Bluey Rohan provided some relief in between Ainslie goals when he broke away from a boundary throw in and drilled a long one. Swans were 21 points down at half time, poor kicking for goal, skill errors and turnovers the main causes.
As usual the team structure changed considerably in the second half. Mercifully Richards was the nominated first emergency, so he was not seen again. Crusher moved to the ruck and Pyke took Ted?s place in the backline. The effect was almost immediate. After Ainslie got the first goal through an unbelievable umpiring decision, things kicked into gear. Goals to ?Penny? Lane, Cheese and LJ got the Swans back into the game. Ainslie got two back (one from another 50 metre penalty) Vez marked on the lead and goaled, then got another long bomb home amid more squandered shots by Penny, Poppa and Bevo. Penny made amends with a long angled set shot after receiving the pass from Bevo and Bluey finished the quarter after he accepted a good inboard pass from Nipper Gordon. At ? time the Swans had finally hit the lead and had all the momentum.
The last quarter was a cakewalk as Ainslie ran out of legs. The highlight was a long bouncing run from Bluey Rohan who kicked to Penny?s advantage for a 45 metre running effort. LJ, Poppa, Vez and Barlow joined in the fun. A 43 point win sounds impressive, but was by no means a true reflection on a game where the Swans did not hit the lead until late in the third quarter.
Player Assessments..
LJ is on song, and kicked a fine running goal, plus a further four. Good decision maker, good mark, good kick on goal and a promising future..
Pyke is improving, starting to tackle a bit more - appeared to have relaxed his fear of tackling (to start with), tentative on kicking, but tap rucking much better. Not helped by idiot umpire who doesn't recognise what a tackle is*. Went back into his shell a bit afterwards. But more inclined to get to a spoil position in the goal square.
Penny Lane got into the rhythm of the game after half time, 4 goals, good marks, and a couple of goals were outstanding.
Best game this year so far for Bluey/Red Rohan. He has got the tackle technique sown up. He must have extra long arms they wrap around his victim completely and always has a pure finish. Many long penetrating runs and disposal much improved. However, he must have been watching too much Rugby, as a couple of time he completely forgot that he has to bounce the ball
Cheese got as many ave/bad marks as good, blows hot and cold.
Bevo, giving away too many frees and appears frustrated. Up and down, good and poor. But to be fair took one outstanding mark.
Mod, never reached great heights, not expecting him to follow on next year if he doesn't get his finger out and play senior footy in the ressies. Could not get into it this week.
Crusher, outstanding at times, in the forward line and in the ruck. Had an unpaid mark* which was infuriating. His ruck work in the third quarter was instrumental in getting the Swans back into the game.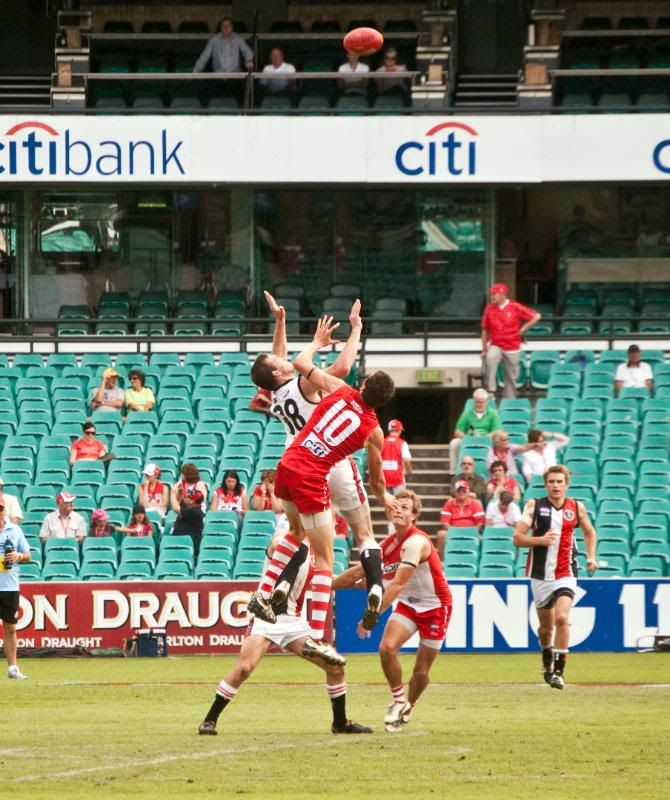 Patty tends to play his game, and forgets there is a team involved. Likes his moment in the sun does Patty. But can and did kick 4 goals including a couple of terrific long shots.....however his breathing is painful, shallow and often, felt like the trainers should have a Ventolin on hand.
Unfortunately Ted didn't do a great deal. Roos has flagged Ted as a chance to replace Bolton next week; to reward poor performance with promotion would be a slap in the face to other young kids breaking their necks to get promoted.
Cambo ?Jonesy? Heath had a dog of a day, like he was playing after a night out......decision making far to slow and indecisive. Last home game he was a star!
Meredith was on ground, so were Gilly and Nipper and McKaige(?) Thanks for turning up guys.
Henry's game was ok, some very good marks, not much chop at goal kicking, or getting to contests, has definitely lost a yard or two.
Special mention must be made of Dylan ?the Dill? McNeil, Primmy?s BOG. You could hear them calling Dill Dill Dill, all the time, which meant he had got the ball. Related to Kirky, and his persistence must be a family trait. Not much of him, up and down or sideways, but well worth the effort. He got flattened with a bump, but he got up "he just got up". I wouldn't have.
Umpire Assessment* By the 3rd quarter the other umps had had enough of one of the field umpires, and in deference to Primmy?s heart condition moved her to the other end. No idea of the game or technique, and should not have been on the ground. Back to kindergarten I say. A lot is said regarding the playing standard of the Canberra league, but one of the comp?s biggest blights is the umpiring standard. Deplorable.
I think the 30 second rule for goal kicking for Ainslie has been put aside, or it doesn't count in ressies.
Toppies were not much in evidence, except 51 Emery, who is a big lad and had some first rate clangers... Guthrie at 47 had by my count all clangers and not much else. However number 49 kick pass of the ground to Nipper was a highlight.
Star of R1, the Weed Reid, didn't play this round. They can't play all of them, and apparently he is a bit sore in the shoulder, so he was rested. Looking forward to seeing if he is consistent.
Swans Reserves - 2.4 (16) 6.10 (46) 13.16 (94) 21.9 (145)
Ainsle - 3.3 (21) 10.7 (67) 13.9 (87) 15.12 (102)
Goals: Veszpremi 5; Dennis-Lane, Johnston 4; Playfair 3; Rohan, Barlow 2; Currie 1
Best: McNeil, Johnston, Pyke, Currie, Veszpremi, Rohan,
more pics here
Check out the run and carry sequence of Rohan!!